More Than 150 Men Show Up for Their Health
October 05, 2023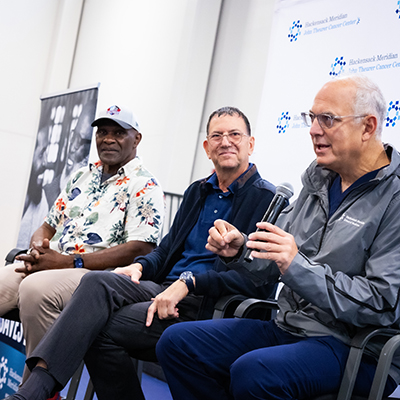 Hackensack Meridian Health's Men's Health Day Offers Screenings for Those at High Risk for Prostate Cancer & Other Diseases
Despite the miserable weather last weekend, more than 150 men attended Hackensack Meridian Health's Annual Men's Health Event at the Hackensack Civic Center where all-time NY Giants great Harry Carson kicked off the event with words of encouragement and the importance of regular screenings.
Held on the last day of Prostate Cancer Awareness Month, the men, from all over New Jersey, received free screenings for prostate cancer, high blood pressure, diabetes, asthma, lung disease, colorectal cancer and more; as well as advice and support from experts with the Hackensack Meridian Center for Discovery and Innovation (HMH's world renowned research center), the Hackensack University Medical Center Department of Urology and the Cancer Community Outreach & Engagement Program at the John Theurer Cancer Center and the Hackensack Meridian Health Community Outreach Division.
"This kind of public event is important to our mission in health care," said David Perlin, Ph.D., chief scientific officer and executive vice president. "At the CDI our Cancer Prevention Precision Control Institute is aiming to make a difference with this kind of community outreach, and it's become a crucial part of the CDI's mission."
About 1 in 8 men will be diagnosed with prostate cancer during his lifetime. African American men are at an even greater risk for developing prostate cancer over white men and other men of color. Black men are more than twice as likely to die from prostate cancer than other men and are also slightly more likely than white men to be diagnosed with advanced disease. Men who are at higher risk of prostate cancer, including African American men and men with a family history, benefited most from this event.
"The pandemic delayed many people from seeking the screening tests they needed, many of whom already had reduced access to health care," said Michael D. Stifelman, M.D., chair of Urology at Hackensack University Medical Center, director of Robotic Surgery and co-director of Urologic Oncology at John Theurer Cancer Center.
"Our goal is to connect men, especially African American men in our community with cancer screening, which can detect the disease in its earliest, most curable stages."
The many screenings were provided by Secaucus, NJ-based Quest Diagnostics, a collaborator of Hackensack Meridian Health's, at no cost to participants. In addition, Quest's Vice President of Medical Affairs, Yuri Fesko, MD, a board-certified oncologist, was in attendance to discuss the importance of screenings and new innovations in prostate cancer testing.
With such a big turnout, the entire team felt fulfilled in bringing the shared decision-making model from the doctor's office into the community while reconnecting the men with needed medical care.