Chen and Epidemiology Down to the Molecule
April 14, 2022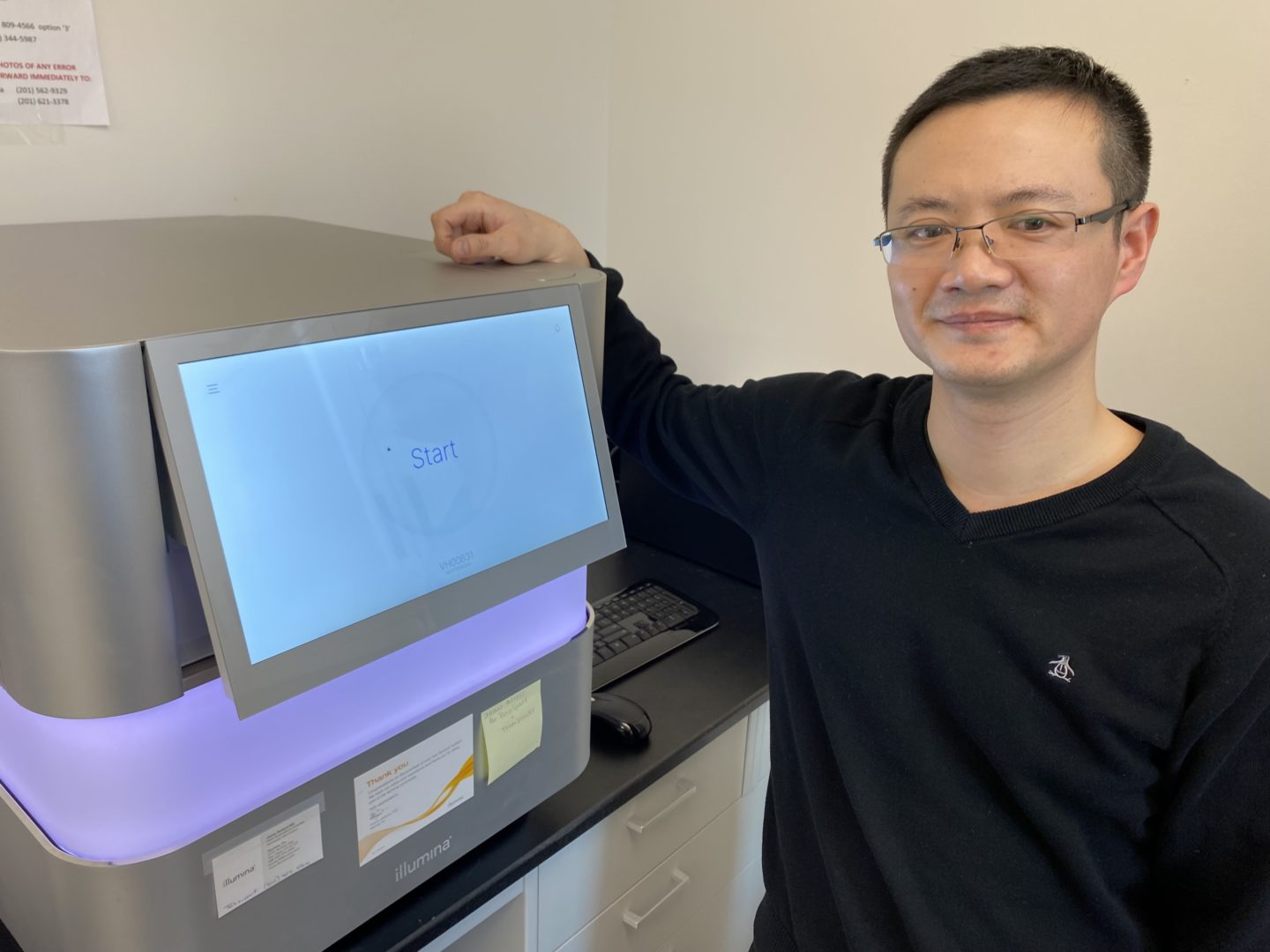 Reporting on the twists and turns of the SARS-CoV-2 virus has become nearly as ubiquitous as the weather forecast. The COVID-19 pandemic opened the public's eyes to the reality that germs invisible to the naked eye impacted their lives every day - and continue to change, right under their noses.
Such microscopic games of cat-and-mouse and evolution are nothing new to Liang Chen, Ph.D., assistant member of the Hackensack Meridian Center for Discovery and Innovation (CDI) and associate professor in the Department of Medical Sciences, Hackensack Meridian School of Medicine.
Chen, working with veteran colleague Barry Kreiswirth, Ph.D., has been at the forefront of tracking and understanding the dangerous drug-resistant bacteria often among us in health care settings and which go mostly unnoticed - until you or a loved one contract them, and end up seriously in trouble.
"The public only really started talking about 'variants' and 'strains' of disease since the SARS-CoV-2 virus came along and changed their lives," said Chen recently in his office. "But the public needs to understand that we have a constant battle against bacteria which continues to pose public health problems."
"Liang is a methodical and dogged scientist," said Kreiswirth, Chen's mentor. "What's more, he is a great colleague. Over the last decade, he has been a critical part of almost all our results. And his contributions only continue to grow."
FROM CADMIUM TO GRAM-POSITIVE BACTERIA
Chen grew up in China, the son of two medical doctors. He received his medical degree, with an additional Master's in Toxicology and Ph.D in public health. He quickly specialized in a puzzle of epidemiology for a rapidly-industrializing nation: the exposure of workers to heavy metals like cadmium in factories. Such exposure can cause damage to the bones and kidneys, based on the amounts ingested through food or breathed in the air. The lessons of public safety were clear from the start, as Chen recalled.
"Public health, ultimately, is about looking for ways to protect human well-being," said Chen. "You need to think of the human-environment interaction, and how that affects people."
But plans changed, when Chen's wife found a job and a calling in the United States in 2006. (Chen's wife is Yanan "Nancy" Zhao, the assistant member of the CDI, who works with Dr. David Perlin, and whose office shares a wall with her husband's.)
The couple relocated for her job. Chen found no immediate need for his particular brand of molecular epidemiology involving industrial exposures, but he did find a new opportunity in the same institution his wife worked: the Public Health Research Institute (PHRI). Laboratory head Kreiswirth was working on drug resistant Mycobacterium tuberculosis and Methicillin-resistant Staphylococcus aureus (MRSA), another type of public health threat. Chen joined Kreiswirth group, with a new journey: tracking bacteria, antimicrobials, and the ongoing warfare between the two.
Some 15 years later, Chen has authored over 230 peer-reviewed publications and presented more than 60 posters/oral presentations on international and/or national conferences.
"It's actually a gift," Chen said, of his background with cadmium and epidemiology in China. "It wasn't a limitation at all - it's always helped me keep perspective on the clinical reality of things we see in the laboratory."
GRAM-POSITIVE, GRAM-NEGATIVE
S. aureus is one focus of the Kreiswirth lab - especially the strains which are methicillin-resistant - the dreaded MRSA.
Chen and the rest of the team work with the latest techniques to track these germs. These tools include rapid PCR (polymerase chain reaction) diagnostics, utilizing fluorescence probes, e.g. molecular beacons - originally developed at the PHRI and employed successfully by Zhao in tracking COVID-19 viral variants over the last two years. Used in concert, these methods can determine what strains of germs circulate, where they spread, and how they spread.
But the last decade has brought a sea change in DNA sciences. Chen has also continually pushed forward with more and more incisive bioinformatics techniques to understand the germs they were discovering and monitoring. By sequencing entire genomes, for instance, you are building fuller, more-detailed family trees which can show the evolution of pathogens - and how they are changing.
"With these techniques, you get a lot of stuff you know - but things you don't know, too," said Chen. "That's where you can learn even more."
The techniques were just in time for an unprecedented new threat: carbapenem-resistant Enterobacteriaceae, or CRE. These germs have been described as "nightmare bacteria," and deemed an "urgent threat" by the Centers for Disease Control and Prevention (CDC).
The epicenter of their rise more than a decade ago was the health care facilities in the New York-New Jersey region - right where Kreiswirth and Chen and their lab happened to be looking for "superbugs."
CRE have proliferated over the past decade and grown resistance to even the most powerful antibiotics. The worldwide dissemination of CRE is predominantly associated with a major Klebsiella pneumoniae clone known as ST258. By analyzing the whole genome, Chen and the lab have revealed that the ST258 is a hybrid strain that originated as a large chromosomal recombination; and in so doing, the scientific team was the first to completely sequence two ST258 genomes. It's just a handful of several thousand of CRE isolates the team has so far cataloged.
But this super clone is a relentless opponent, never "staying still" for long - especially because of its plasmid molecular tactics. Plasmids are small strands of DNA which replicate independently of the chromosome, and which present a great challenge to scientists. Since plasmids very easily move around, and even cause chromosome changes by picking up certain genes and dropping them elsewhere in the code, they are a mercurial variable in ongoing tracking efforts. ST258 has used plasmids to stay one step ahead of its pursuers; and the hybrid has been, and remains, the predominant clone of K. pneumoniae for the last 20 years.
"We're still not done with ST258," he said.
TOWARD THE FUTURE
Chen and Kreiswirth's arrival at the CDI in 2019 was fortuitous; they are now linked to the largest health network in New Jersey via Hackensack Meridian Health. Thus, they will have a chance to adapt all their advances and their surveillance to problems, in real-time.
Forthcoming projects will find ways to assist the clinical setting through the years of experience and expertise of the laboratory scientists. For instance, the network invested in a state-of-the-art Illumina NextSeq sequencer system next to Chen's office, which promises to provide more and more microbiological answers, in-house, in the months and years to come. Chen has also employed CRISPR techniques into his toolkit, which has led to some increasingly detailed looks into what makes the germs "tick."
"Scientists need to adapt," said Chen. "What's the final goal? The clinical impact? What's the human outcome?"
A career peak has not yet been reached, Chen said recently in his office. Each day presents new challenges - and opportunities.
"I expect the high point… is the next one," he said with a smile.
Chen and wife Zhao are both "workaholics," so both are constantly attempting to advance their discipline, even at home. Their spare time is spent with their teenaged daughter - who has not yet expressed interest in the sciences of her parents. Chen also relishes cooking for family and friends during the holidays, going for groceries, and planning a trip to visit his parents back in China in the near future, once the COVID-19 pandemic allows.
"I just like to have a simple life," he said.